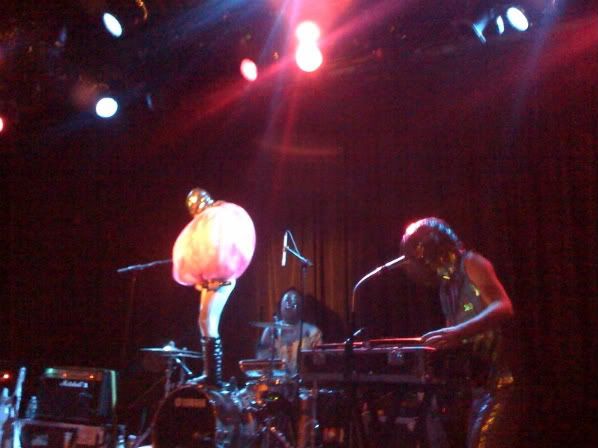 Photo by Nicole Wasilewicz
When I first saw Peaches I was a teenager in frilly panties drinking half of bottle of raspberry vodka before stumbling into the Henry Fonda Theatre in Hollywood. My third time seeing Peaches and I'm stone cold sober fully dressed at the Music Hall of Williamsburg about to turn 26. And one thing hasn't changed a bit - Peaches still rocks harder and longer than any boy I've ever known or seen.
After she stood on top of the audience and the drum machine - she went up into the second level of the venue and announced that her family was here as she put her arms around an older lady (her mom?) and then gyrated wildly over the railing.
The re-enactment of the
"Lose You" video
complete with the robe costume and projections of faces on her arms was a highlight -- but she had us at "hello" in a ridiculously puffy sexy outfit. The audience was transfixed when she played with a light rod; and throughout the performance she shed a million layers of leotards until she was down to one flesh colored sweat covered number.*
At one point someone next to me compared the almighty Peaches to Lady Gaga - gag me! With her questions and sometimes "fuck you" to gender roles, DIY mentality and Cousin-it backup dancers Peaches is in a place where Lady Gag-me doesn't even know how to dream about - because it's REAL and raw and disgusting and wonderful.
Treating the audience to three encores and letting her backup band (
Sweet Machine
) - dressed in mermaid scales and lingerie play a little solo number Peaches rode us all into oblivion and even left us wanting more...until next time lady, I love you!
*It is now decided that I will wear nothing but leotards this summer and cut my hair into a Peaches-inspired mullet.
-Lauren